Amid the clamor of talking heads in the realm of sports journalism, the inimitable Jemele Hill resounds like a trumpet blast of authenticity. Charismatic, intellectually rigorous, and unapologetically herself—Hill has carved out a space that's entirely her own. It's 2023, and as we dance on the numbers, her net worth clocks in at an impressive $4 million, according to Idol Net Worth. Yet, this isn't just about her financial portfolio. It's a mirror reflecting her unparalleled journey through the turbulent landscapes of media and activism.
The Birth Of A Crusader: From Print To The Screen
NEW YORK, NEW YORK – MARCH 26: Jemele Hill attends 'Spotify – Jemele Hill is Unbothered' at Gitano on March 26, 2019 in New York City. (Photo by Theo Wargo/Getty Images for Spotify)
Jemele Hill's story doesn't commence with her nationally recognized face or her deft manipulation of the Twitter sphere. It starts at the humble Detroit Free Press where she covered high school sports. Hill climbed the hierarchical ladder in the journalism domain with a quiet yet unmistakable intensity. The Scripps Howard Foundation recognized her incisive skill set early on, awarding her its coveted "National Journalism Award." But her transformation into a household name occurred when ESPN swooped in and offered her a seat at the table—more specifically, the news desk.
Conquering Airwaves & Stirring Pots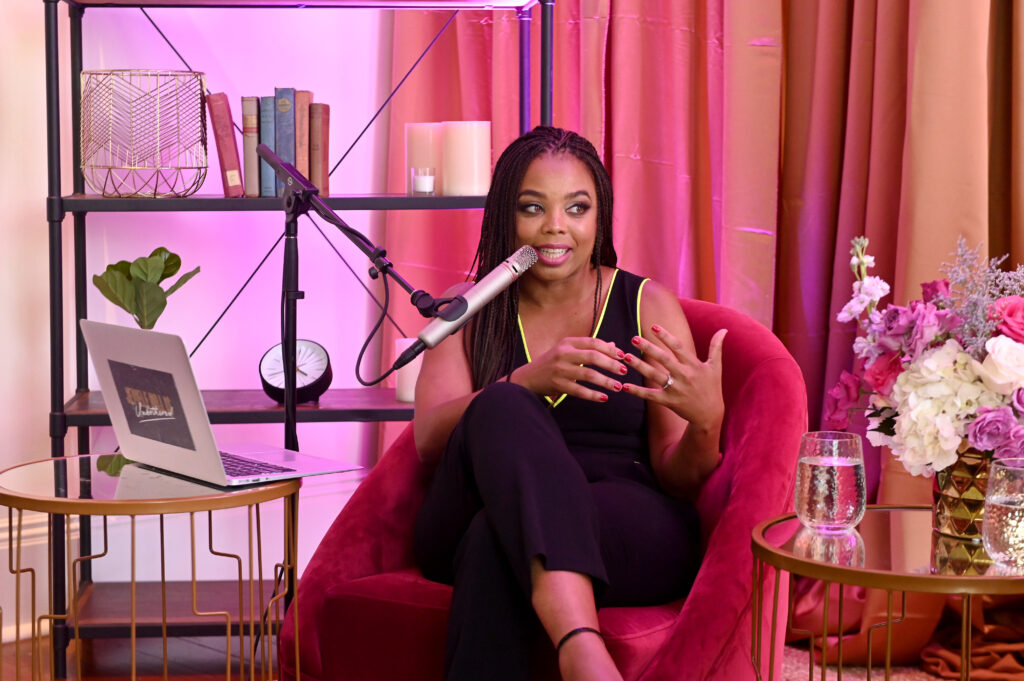 NEW ORLEANS, LOUISIANA – JULY 06: Jemele Hill speaks during the Spotify House Of Are & Be Podcast Session Presenting Jemele Hill Is Unbothered Live With Senator Kamala Harris on July 06, 2019 in New Orleans, Louisiana. (Photo by Daniel Boczarski/Getty Images for Spotify)
ESPN wasn't just another rung in Hill's ever-ascending career ladder. It was the stage upon which she'd perform some of her most impassioned and controversial acts. As a co-host of His & Hers and later SC6 with Michael and Jemele, she was never one to mince words or shy away from the inconvenient narratives that many sports journalists tend to avoid. The topics ranged from Colin Kaepernick's protest to the murky politics within sports. It was an area rife with complexities and discomfort. Hill's knack for bringing social justice issues into the sports dialogue set her apart as a journalist and an activist. This was much to the chagrin of some but to the applause of many.
The Private Life: A Balanced Equation
BROOKLYN, NEW YORK – OCTOBER 07: Jemele Hill and Ian Wallace attend as Netflix opens up Culturecon New York with a screening of The Redeem Team featuring Dwyane Wade and an Entergalactic Party on October 07, 2022 in Brooklyn, New York. (Photo by Jason Mendez/Getty Images for Netflix)
Jemele Hill maintains an enviable equilibrium between her public persona and private life. It is a tightrope walk that many in her position have stumbled upon. She married her longtime love, Ian Wallace, in a ceremony that captured hearts and headlines in 2018. The wedding wasn't just an affirmation of romantic love but a celebration of black love, culture, and tradition—something she's always upheld. Far from the limelight, she shares snippets of her life that resonate with both die-hard fans and casual observers.
The Altruist Wearing The Capitalist Hat
INGLEWOOD, CALIFORNIA – OCTOBER 21: Journalist Jemele Hill attends her book release party at 1010 Wine and Events on October 21, 2022 in Inglewood, California. (Photo by Robin L Marshall/Getty Images)
Yes, you read that right—Hill is as strategic as she is empathetic. Not content to sit in the glory of a successful journalism career, she made her foray into podcasting with Jemele Hill is Unbothered, a show that packs political ruminations, celebrity interviews, and social discourse into compelling auditory episodes. Moreover, Hill's involvement in charitable causes, particularly those focused on educational opportunities for marginalized communities, has been both extensive and impactful.