R&B trio Tony! Toni! Toné!, consisting of Raphael Saadiq, D'wayne Wiggins, and Timothy Christian Riley, have announced a return to music and teased a new album. Saadiq updated Vulture on their long-awaited fifth album.
"We definitely gonna do an album after this tour," Saadiq told Vulture's Brandon Caldwell. "We're working on it as we speak, in all these rooms."
The album's official release date and title have not been revealed yet.
It has been 27 years since Tony! Toni! Toné! last released an album. House of Music was released Nov. 19, 1996, via Mercury Records.
The 14-track LP has been certified platinum by the RIAA for pushing over one million equivalent units. "Thinking of You" and "Let's Get Down" supported the album at radio and on the charts. 
Regarding the inspiration behind the album title, Wiggins told Billboard in October 1996, "We title all our albums at the end of the project. We sat back and listened to everything, and it reminded us of this mom-and-pop store around our way in Oakland, so we named it House of Music."
Tony! Toni! Toné! went on a hiatus after releasing House Of Music and began working and touring separately.
During this time, a recording was made called "Diary," which appeared on Alicia Keys' 2003 sophomore album, The Diary of Alicia Keys. The song features Wiggins and Riley.
Saadiq shared with Vulture how he felt regarding them recording under the band's name without his involvement.
"I didn't judge Tim and D'Wayne. They had to do what they had to do. I never looked down on it. I mean, I knew it wasn't at the level, because the three of us were still growing. We could have been doing arenas like Frankie Beverly and Maze. But 'Diary' was great. I loved it," Saadiq explained. 
He continued, "Clive [Davis] wanted us to get together to do it, but I was like, 'I'm not getting together for Clive if we can't get together ourselves.' I wanted to do other things."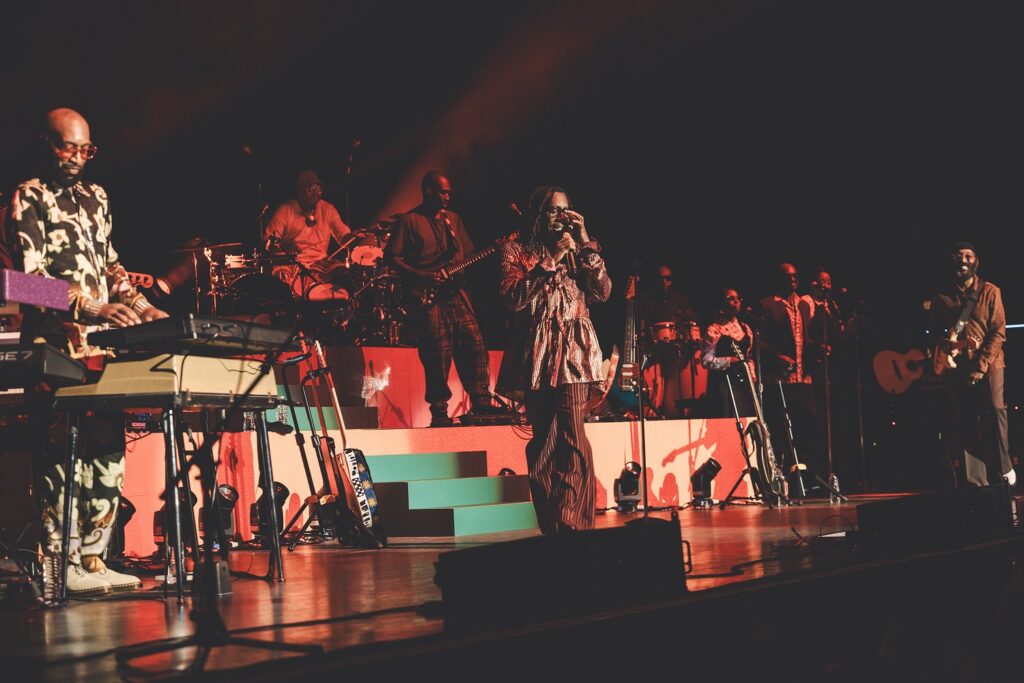 Elsewhere in the Vulture interview, Saadiq discusses the Tony! Toni! Toné! reunion tour with Wiggins and Riley, his reluctance to be the group's lead singer, his collaborations with different artists and more. Read the full interview at vulture.com. 
Currently, Tony! Toni! Toné! is on a headlining reunion tour celebrating the 30th anniversary of Sons of Soul. For tour information, please visit ratedrnb.com.
Remaining Raphael Saadiq Revisits Tony! Toni! Toné!: Just Me and You Tour Dates
Sep 28 – Philadelphia, PA @ The Met Philadelphia
Sep 30 – New York, NY @ Radio City Music Hall
Oct 1 – Durham, NC @ Durham Performing Arts Center
Oct 5 – Boston, MA @ Orpheum Theatre presented by Citizens
Oct 8 – Cleveland, OH @ KeyBank State Theatre
Oct 10 – Louisville, KY @ The Louisville Palace
Oct 11 – Nashville, TN @ Ryman Auditorium
Oct 12 – Chicago, IL @ The Chicago Theatre
Oct 13 – Detroit, MI @ Fox Theatre Detroit
Oct 19 – Greensboro, NC @ Steven Tanger Center for the Performing Arts
Oct 20 – Columbia, SC @ Township Auditorium
Oct 21 – Jacksonville, FL @ Jacksonville Center for the Performing Arts – Moran Theater
Oct 22 – Atlanta, GA @ Fox Theatre
Oct 26 – Memphis, TN @ Orpheum Theatre
Oct 27 – New Orleans, LA @ Orpheum Theater
Oct 28 – Dallas, TX @ Music Hall At Fair Park
Oct 29 – Houston, TX @ Smart Financial Centre at Sugar Land
Nov 10 – Las Vegas, NV @ Pearl Concert Theater at Palms Casino Resort
Nov 11 – Los Angeles, CA @ YouTube Theater
Nov 14 – Oakland, CA @ Paramount Theatre-Oakland
Nov 15 – Oakland, CA @ Paramount Theatre-Oakland
Nov 17 – San Francisco, CA @ The Masonic