It's an August afternoon, and producer Kasey Phillips is processing his first No. 1 hit on Billboard with Ciara and Chris Brown's "How We Roll." The song, which topped the R&B Digital Song Sales chart, was released as the lead single from Ciara's new EP, CiCi.
"I'm still taking it all in," Phillips tells Rated R&B from his Precision Productions studio in North Hollywood, California. "I think how I work, I don't really stop and geek out until like long after. I'll be like, 'Wait, that really just happened," he chuckles.
But this milestone is different for Phillips. "It's kind of surreal. This is all new territory for me 'cause I never had a number one R&B digital song. I'm just taking it all in, watching what happens [and] seeing how far I could go learning the process along the way."
Born in Trinidad and Tobago, Phillips grew up in a musical household. His father, Kenny Phillips, is a renowned calypso and Soca producer/musician. Phillips' earliest music memories trace back to being in the studio with his father.
"I was pretty much born into the studio from a very young age. I always laugh about it, but I was crawling [around] the studio. I would hide in the corner, watch what's going on, and absorb everything," Phillips reflects. "When he was done working, I would go and mess with stuff and have to call him to fix it. That was kind of my start."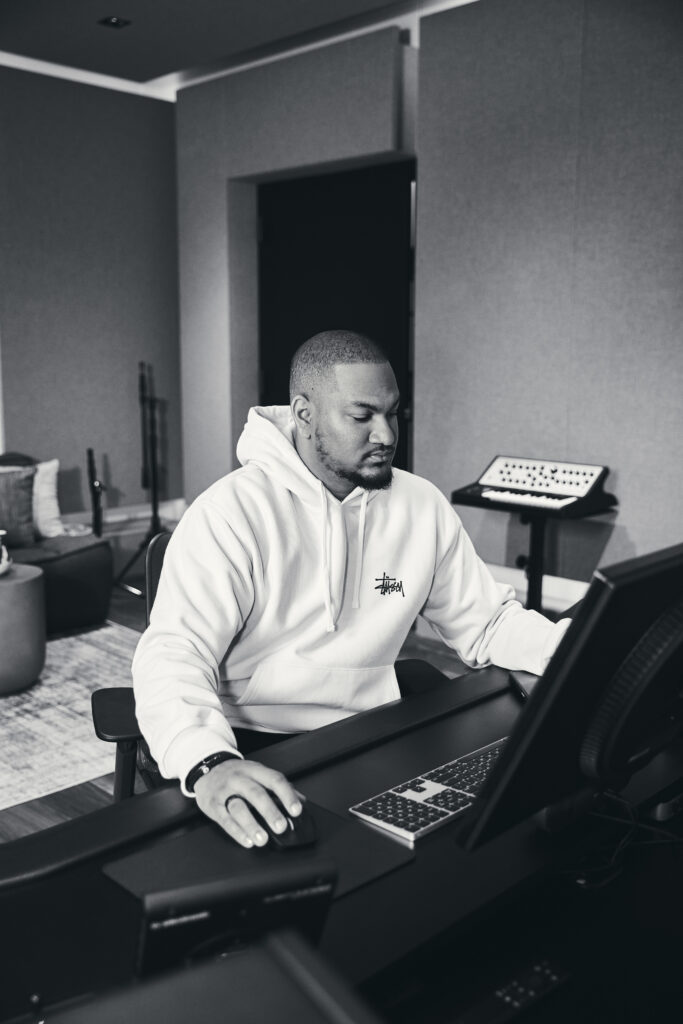 It wasn't long before Phillips found his knack for producing. "I did my first song when I was 10 years old and [have] been building up from there," he notes. Much of Phillips' early work centered around Soca in Trinidad, though he's always had an interest in exploring other genres. "Hip-hop and mainstream music was always a like a quiet passion. But there's no big market for that in Trinidad," he declares.
In 2010, Phillips interned with Grammy-winning production duo Dre & Vidal in Los Angeles, who has worked with everyone from Jill Scott and Musiq Soulchild to Usher and Ciara.
"I learned a lot about songwriting, song structure [and] just the process of creating this assembly line and getting songs done," reflects Phillips. "I took that back to Trinidad and had great success over there and built up Precision Productions."
While in Trinidad, Phillips continued developing Precision Productions as a go-to company in the Caribbean music scene. "Every year, we would have really popular songs for [International] Soca Monarch, all [Carnival] Road March songs, you know, the Carnival parade with costumes and all that. But one of the downsides with the music in Trinidad is that it's seasonal. So as soon as Carnival is done, those songs are gone."
Even though Phillips' company was seeing success within the Soca market, he knew he wanted to continue expanding his musical palette. "It kind of was always in my sights," Phillips shares. "After seeing the little glimpse in LA, I was like, 'I need to go back to LA and do this.' The seasonal thing was hard to keep doing — chasing the same carrot every year. I was like, 'I need to expand out this. I love it for what it is, but I need to try and aim for this.'"
Phillips relocated to Los Angeles seven years ago to further build Precision Productions. His most recent client includes Grammy-winning R&B star Ciara, as noted above. Phillips co-produced five of the seven tracks on Ciara's CiCi EP, including "How We Roll" with Chris Brown, "Type A Party," "Forever" featuring Lil Baby, "2 In Luv" and "Winning" featuring Big Freedia. Before that, he produced Ciara's 2022 single "Better Thangs" featuring Summer Walker.
In Rated R&B's interview with Kasey Phillips, the producer discusses his musical journey, his company Precision Productions, his experience working on Ciara's CiCi EP and more.
You produced five of the seven songs on Ciara's CiCi EP. How did you get involved with the project?
I believe it's just based on the history of how I've been working with Theron [Thomas] and Timothy [Thomas] of R. City on their Soca projects. I work with them and Deli Banger, who also did [Ciara's] "Better Thangs" with me. This stemmed from when [Theron and Timothy] were on tour with Maroon 5 [in 2016]. There were a lot of ideas and a lot of skeletons they would do on the tour bus and never really finished out. So, the process started to become: they have these ideas, they'll start with Deli Banger, then they'll send it to me to finish and it be a Soca song. I'll flesh it out, mix it, and do all the final stuff.
I think from just doing that with him, [Theron] knew, "Kasey was the finishing guy." I think they went and did all their demos — he and CiCi. I think they did everything in two weeks — the full album at the time. When I got back to LA, he's like, "Yo, we're coming," and he brought everything. He's like, 'All right, this is where we at. The songs are done. She recorded everything. Let's finish this." That's kind of what the process was. It was just going in and doing the final touches, tweaking all things. Actually, "Better Thangs" was a full R&B song — like slow and sexy R&B but that got changed last minute. It was like, "Now we needed to be able to dance." Little things like that were happening in the process. It was interesting.
Does Soca inspire the way you approach production, particularly in other genres like R&B?
One of the things I learned was that it's in it regardless. I don't have to try to be like, "Oh, let me put some Soca percussion." It's there because it's in me. A lot of peers and people hear stuff, and it's like, "Yo, something feels different…the drums groove different. What is it?" I've been learning it's just being from the Caribbean.
Congrats on scoring a No. 1 on Billboard with Ciara and Chris Brown's "How We Roll." How would you describe your process creating this record?
"How We Roll" was always a vibe — like put a song on in a car and drive with it kind of song. When "How We Roll" came in, it was like, "All right, this is almost there. I don't want to mess with it too much. We'll just get it to hit hard, make sure that it's correct, but it doesn't need too much craziness happening." It's one of those songs where you kind of leave it alone.
I've been seeing fans online complimenting how well the EP flows. What are your thoughts on that?
Yeah, it's definitely cohesive. I think Theron has a big part in that because he had a hand in all and wrote on all. Theron and Ciara, I would say, kind of curated the entire album like, "This is what we are going for. We [are] matching this vibe and we're staying within this world." When you listen to it, it's like, "All right, cool. This works." A lot of fans have been complaining that it's too short (laughs).
It's an EP, so the shorter length is understandable.
Yeah. The EP is a proof of concept. I think we proved the concept (laughs). So the next phase would be the album, and just waiting to see what happens with that. I think the EP is beating all of our expectations of what it would've done, especially being independent. Big shout out to Ciara, her team, and Beauty Marks [Entertainment]. It's amazing to see what it could do without a [major] label. I'm a student, so I'm learning.
Is there anything that you feel like you've learned so far in this process?
One of the biggest takeaways was collaboration. In a different world, had I been like, "I need to do it all by myself," I probably would've had none on this EP. Even on the writer's side, it's like five or six writers on each song. So, on the producer side, it's like two or three producers on every song. It could be little things, but it's all collaboration. The more you collaborate, the better you give yourself more shots at the target, more chances, and you kind of just open up the world.
How would you describe your process working on "Winning," which has a New Orleans Bounce influence?
I think that one came in almost baked in for the most part. It was just getting the bass to really hit. It was a lot of drum work, and just getting it to slap. I've heard some of the Big Freedia stuff before. So I know the bounce. Luckily, being from the Caribbean, we could identify different groups and work with different groups. Even if it's Afrobeats, we know how to swing that way. If it's a New Orleans Bounce or Jersey club, we could do that. But, yeah, it was a vibe. It was just kind of getting the drums to hit, staying true and authentic to the bounce and making sure it's danceable. That was fun.
One of my favorites on the EP is "Type a Party." What was the intention behind the song's production?
"Type A Party" was actually a collaboration between me and a friend of mine, Dwight [Florent], who's Flo Beats. He's actually from St. Lucia. We have a gang of Caribbean guys on this [EP]. He had this idea for this track, and I was like, "I like that." He plays guitar, so that's what the guitar is from. I was like, "Send me that." I changed over some drums, beefed up the bass and sent that in. They liked it. Something about "Type A Party" is nostalgic. It just has its own special thing.
What's your favorite song that you produced on CiCi?
My favorite is "2 in Luv."
Out of the five songs you produced on CiCi, which one would you reimagine for a special dance or Soca mix?
I'll probably say "How We Roll" because it has that energy and [is] more danceable. I think that might be the one for right now, at least.
Is there anything else you have coming up?
Yeah, we have some stuff coming. I can't talk too much about it yet. But we have some surprises coming.
Stream Ciara's CiCi EP below.