This Donald Trump legal blow might have been even worse than anyone realized! If you missed it — or didn't follow what the heck was going on, like us — here's the recap…
In the ongoing civil case against the Trump Organization — in which New York is suing Trump and his businesses for $250 million — a judge has ruled on the facts of the case. And guess what? He says they are not in dispute! According to Judge Arthur Engoron, who is apparently an expert on financial cases, said that based on the "conclusive evidence" — before the trial even starts on October 2 — he is ruling Trump, as well has his sons Eric and Don Jr, committed fraud. Per the ruling, they inflated the value of their properties to banks to get better loans and deflated the numbers to the government to pay less in taxes.
Yes, that's against the law. Unlike claims of crowd size and weight, these lies are illegal. And we're not talking about a little. In one case Trump boosted the value of a property by 2300%!!! Trump even claimed his own penthouse in Trump Tower was 30,000 square feet — THREE TIMES bigger than it actually is! On that wild claim, the judge wrote it couldn't possibly be considered an accident:
"A discrepancy of this order of magnitude, by a real estate developer sizing up his own living space of decades, can only be considered fraud."
Due to the legal ruling that the former POTUS committed fraud, Judge Engoron rescinded all of Trump and his sons' business licenses, essentially canceling the Trump Organization and all the other related businesses. They're just done. Not allowed to continue because they're so corrupt. Just like his charity.
Related: The Reason Trump Hated COVID Masks Was Because They Messed Up His Makeup!
OK, so what's this about bribery??
As part of his defense, Trump made an extremely interesting claim. The ruling contains the line about the former president's defenses of his outrageous financial claims, inflating his value by as much as over TWO BILLION DOLLARS:
"He also seems to imply that the numbers cannot be inflated because he could find a 'buyer from Saudi Arabia' to pay any price he suggests."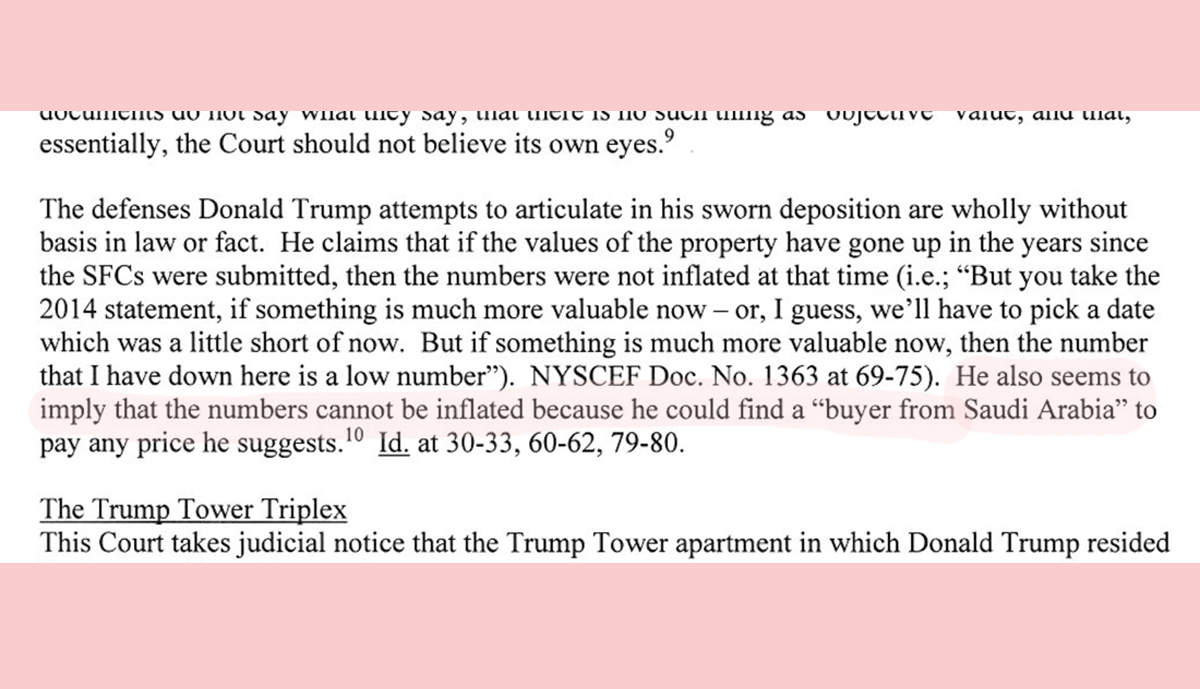 Sorry, to pay "any price he suggests"?? Why would they pay any price he says? Is he saying he could easily swindle Saudi billionaires?
No. Would that it 'twere so simple.
No, he's implying — as a legal defense — that because of his position as president, he could sell real estate to foreign buyers who would be willing to wildly overpay. Why? Why, to get influence over the US government! Yes, we are talking about MFing bribes here! And don't take our word for it, we're celeb bloggers! This is what Judge Engoron himself inferred from the statement! He wrote in a footnote:
"This statement may suggest influence buying more than savvy investing."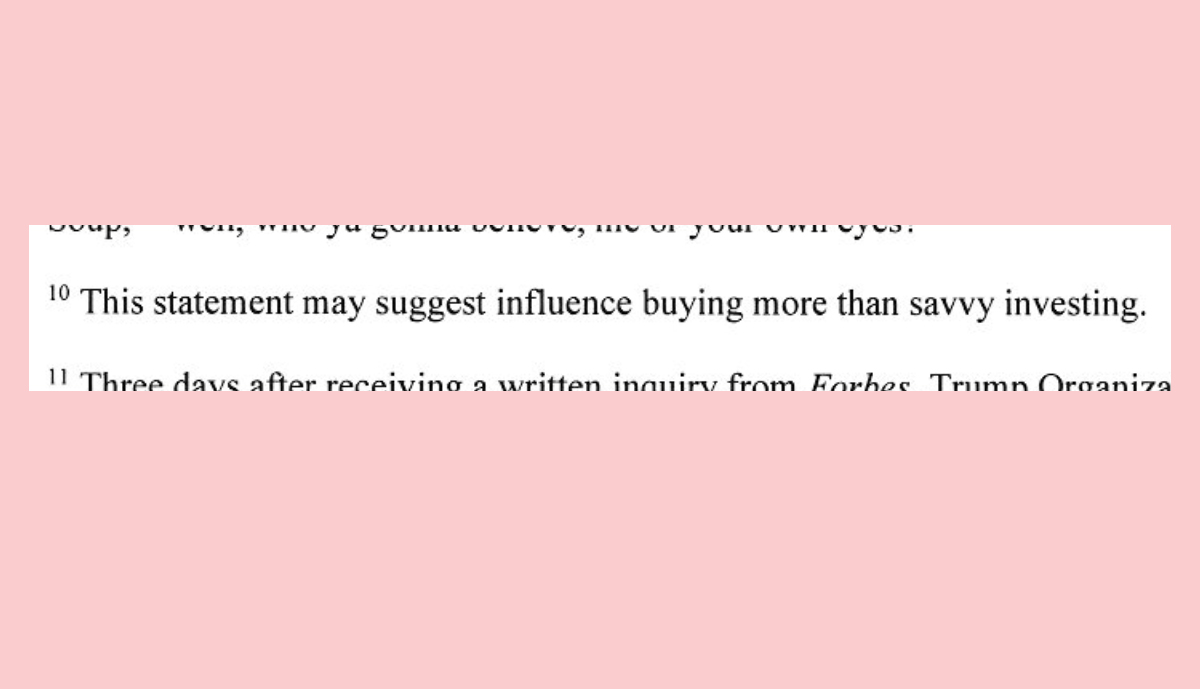 Influence buying. Even the judge took the hint that Trump was talking about selling properties to foreign bodies in exchange for influence in our government. And of course, if they're overpaying — and really paying for him to do them favors — that's bribery. Pure and simple.
And he's just admitting it. How is this man not already in prison??
The entire ruling is surprisingly easy to read — and absolutely SCATHING. You can read the whole thing for yourself HERE. (This is all from page 21 if you want to check our math.)
What do YOU think, Perezcious paralegals?? Is there any way you can trust a guy like that to be in any public office ever again??
[Image via MEGA/WENN.]