It sounds like Matthew Perry's most recent ex has some very complicated feelings to process after his shocking death.
Molly Hurwitz, who dated the Friends star for three years and was engaged to him for one, posted a moving tribute on Monday. She talked about the actor's "brilliance" and her "magical" time with him. However she also noted he "caused pain like I'd never known." Now we're getting a little more insight into that aspect of their relationship — and its end.
Related: Friends Cast Break Silence On Matthew Perry's Death In Emotional Statement
A source told DailyMail.com on Tuesday about the talent manager's state of mind:
"Of course, she is heartbroken over his death. She loved him and just like anyone else would feel in her instance, wishes things would have been different."
When they say she wishes things had been different, they ultimately mean she wishes he hadn't made a mess of things:
"Matthew claimed he wanted this family and to be loved forever by one woman, but he had that with her until he threw it away."
We've heard that from others now, too — that Perry wanted to settle down but couldn't find a woman "he could trust." And another insider told DM:
"Matthew always dreamed of having the perfect family. He wanted a wife, and at least a couple of kids. And he said he wouldn't even mind marrying a woman who already had kids."
But that doesn't exactly match his behavior. Yeah, we're thinking of the incident where he messaged a teenager on a dating app!
In case you didn't see that one, a 19-year-old named Kate Haralson posted a video on her TikTok of an interaction she had with the Three To Tango star on Raya:
"When you match w Matthew Perry as a joke on a dating app and he facetimes you and plays 20 questions with you."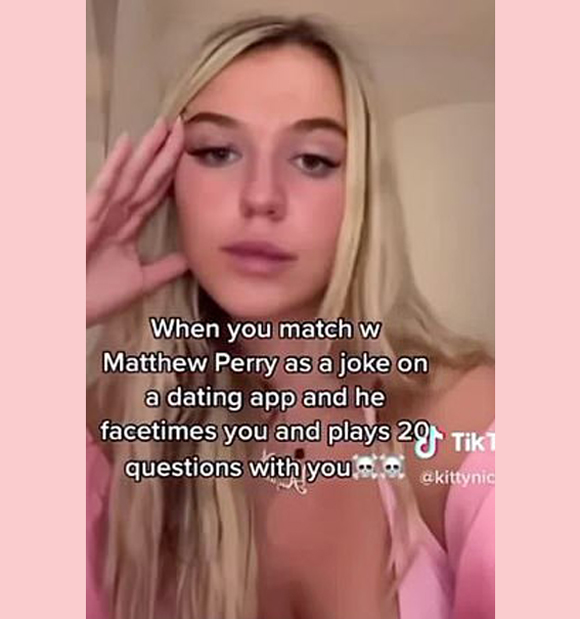 She said he even invited her to take a COVID test and come over some time. The video she shared of Perry was legit. Enough so that she got kicked off the app right after — that's a violation of their privacy guidelines!
But the damage was done. DM's source says that was, as many suspected, the catalyst for Matthew and Molly's breakup. Even though it wasn't necessarily cheating, as it was reported that may have been during a hiatus the two were on in summer 2020 — yes, they were on a break LOLz — it's still a pretty clear indication the man wasn't as interested in settling down as he said if he was still hitting on very young women.
The source says that leak was the beginning of the end:
"She caught him talking to a teenage girl on a dating website and he became defensive. Their split was not amicable, but Molly doesn't blame him, nor does she harbor any negative feelings."
Is it possible Matthew wanted to settle down but just never was able to get truly ready for it? Sure. People are complicated and flawed. But what's truly tragic is, none of us know how much time we have to take stock of what's really important to us.
[Image via HBO Max/YouTube/Molly Hurwitz/Instagram/KittyNichole/TikTok.]